Published on: 09/12/2021
Voxies: Crypto Game Review
Voxies by AlwaysGeeky games is an up-and-coming turn-based strategy game.  It combines NFT gaming with traditional gaming in a way that aims to lower the entry barriers that keep many potential players out at the moment. Their recipe is one that seems to be working – they've managed to attract some pretty huge names already. In addition to having a former Ubisoft dev, who has worked on titles like Assassin's Creed and Far Cry, on their team, they're partnered with Binance.
That partnership isn't the only connection to the Crypto giant though – Voxies holds the distinction of being the only crypto game that managed to make it onto the Binance Launchpad in 2021. The Binance report has been hypercritical of crypto games and has only featured 3 crypto games so far – among them Axie Infinity.
We spoke to one of the minds behind Voxies, who told us that the game is actively trying to bridge the gap between traditional gaming and crypto gaming by making it easier for crypto-newbies and crypto-sceptics to play the game.
Voxies Gameplay
As a strategy game, Voxies combines familiar elements from non-crypto games such as exploration, combat, inventories and upgradeable equipment and characters. The turn-based combat is easy to pick up even for beginners and unlike a lot of crypto games, Voxies can be played even without owning a corresponding NFT.
Those who do own their own Voxie NFTs have the option of upgrading them, renting them out, and accessing rarer and better classes for their gameplay, however even without one, players are able to use play-to-earn functions if they want.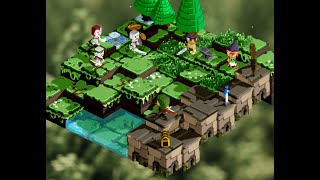 Tokenomics
Voxies only uses two types of tokens – the NFTs that the gameplay is centred around, and the Voxels token that is used as currency. Unlike a lot of the up-and-coming crypto games out there, Voxies is actively eliminating the often prohibitively expensive fees that come with playing on-chain games. Not only is the gameplay itself off-chain and therefore doesn't incur transaction costs, there is also a treasury that covers the transaction fees that are part of using the in-game market.
Like any play-to-earn game, Voxies has multiple channels of income, including renting out NFTs you own for a profit, playing the game, and winning competitions and PvP tournaments. The exact channels won't be revealed until the game's launch. One thing we already know – Voxies is taking active ownership of their version of Axie's scholar/manager system. In order to avoid manipulation and exploitation, the game features its own segment where players can rent out assets that they have to others for a fee and a set period of time.
The assets are transferred to an escrow account belonging to Voxies rather than to whoever rents them, while the user accumulates a percentage of the rewards earned by the renter with the item or character. When the rental is over, the asset is returned to the actual owner, while all transaction costs are covered by the aforementioned treasury. This in particular makes the game an attractive option for play-to-earners, as Voxies makes the staking and renting of assets transparent, with little to no possibility of exploitation by users.
The Plan
Voxies is actively targetting a so-far neglected audience in the crypto-gaming market: the sceptics and traditional gamers. There are a lot of people that have a negative opinion of crypto for various reasons – and Voxies aims to eliminate as many as possible. There aren't any painful gas fees between the Polygon and Matic integration and treasury to cover fees which means the free-to-play format of the game is genuinely, well, free. With incoming multi-wallet support and off-chain gameplay functions, it's not necessary to set up a specific wallet beforehand (or to have one from the get-go), making it easier for players to try it out and play without lengthy set up reqirements.
Since players won't need to buy/own Voxies, there is no 'entrance fee' such as the several hundred dollars players have to pay in order to get into Axie Infinity – another hurdle gone, especially for players who don't have a lot of spare cash and would otherwise be excluded from gameplay.