Published on: 15/02/2022
Dinoland Review – All About This NFT Game
Get ready to step into the ancient metaverse with Dinoland. This is a play-to-earn game that sees you roaming a 3D ancient world filled with all manner of prehistoric beasts. But don't be scared!  Our Dinoland review found that this is actually a pretty cute crypto game and it could have some awesome rewards and NFTs if you play it right. So keep reading to see what the game is and how you can play it!
What is Dinoland?
Dinoland is a crypto game that exists in the metaverse where you have to carry out a bunch of different tasks and you'll get rewarded for your efforts.
Don't go expecting anything like Jurassic Park, as Dinoland is definitely on the cuter end of the prehistoric scale. The game takes place in a colourful three-dimensional setting and the dinosaurs themselves are almost impossibly cute. So let's take a look at how to play this game.
Gameplay
You'll have lots of tasks to do once you first set foot in Dinoland. From collecting and trading to battling, breeding and even evolving Dinos, you'll find many ways to get rewarded for your efforts in this play-to-earn game's metaverse. All of this takes place in a colourful landscape where weird plant life exists among tranquil ocean water while all manner of sharp-toothed beasties lurk around the corner. 
You can begin by simply training the Dino you start with. This means teaching them important tasks like how to beat those unfortunately named Darkie Monsters as well the Dinos of other players. 
However, it's not all about prehistoric violence as Dinoland also includes a fair amount of farming. This is because once you set your dinosaurs into the fascinating world of agriculture, they will create a cool liquidity pool. Such a pool is good news as it will generate further tokens that you can use as currency in the game. 
Beyond this, you can collect special dinosaur eggs from random locations within the prehistoric forest. By holding onto these eggs and waiting for them to hatch, you will get a brand new baby dinosaur – what could be cuter? 
Dinoland Token
The main Dinoland token is the DNL coin. This is what you pay with in order to carry out any number of transactions in the game. You can pick up these DNL tokens for every battle you win over one of those Darkie Monsters or any Dino of another player. Plus all your efforts in farming will be paid off from tokens earned via the liquidity pools. 
What's best is that any DNL tokens that you earn can also be reinvested so that you can improve the overall power of your dinosaur squad so as to obliterate the Monster Army. 
NFTs
If you go to the Dinoland website, you'll see a banner saying that it's the best NFT game of all time. While we're not sure about that, it's certainly a crypto game that packs in plenty of NFTs. 
The game actually has its own Dino NFT Market where you can buy dinosaurs in the form NFTs to boost your collection or even trade if your own NFTs earned through your gameplay. All of which shows that there's limitless potential for prehistoric mayhem in this cool play to earn crypto game.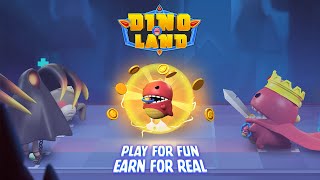 Users' ratings:
Total: (2)
Rating
(4.5/5)
When submitting my score I agree that my IP will be stored to prevent abuse