Published on: 17/11/2021
Illuvium Review: Open-World RPG Adventure Game with NFTs
Illuvium is an open-world RPG game. One of many in fact – there is a huge number of up-and-coming NFT-based RPG games out there – however, Illuvium has several pretty unique aspects to it. The game is pretty well-featured with familiar gameplay elements such as harvesting, mining, capturing and of course fighting creatures called Illuvials.
Once you've collected a team of them, you can even use an autobattler that will let you strategically improve your team while you battle other opponents! Each Illuvial, which doubles as an NFT in the owner's crypto wallet, has its own set of stats, classes and affinities. You can match them based on strengths, weaknesses, or even just appearances, in hopes of getting a good winning streak with your team!
The Illuvium Token: ILV
Underlying the Illuvium game is the ILV token. Just about any crypto game will have its own utility token used to fund transaction costs and of course to pay for things in the secondary markets. In the case of ILV, it's not actually needed for the gameplay itself. The ERC20 token (based on the Ethereum chain) is used for liquidity mining, governance, and vault distributions in the form of passive income from staking.
Like any crypto game, Illuvium will also feature play-to-earn aspects. In-game rewards come in the form of ILV that can be earned through competitions, tournaments, and completing PVE quests. Of course, the captured Illuvials can also be turned into ILV cash – and you can buy and sell them and various resources on the Illuvidex, aka the in-game marketplaces.
Illuvium NFTs
As mentioned, Illuvium relies on NFTs for its gameplay. As far as crypto games go, NFTs are a major factor now. NFT gaming is one of the biggest current crypto gaming trends that combines user-owned assets with real-world value for the things that players farm or buy. Assets don't continue to belong to the developers, but rather to the actual players, which gives them a lot more agency when it comes to the game itself.
It's a fairly straightforward proposition, and one that appeals to many players who are fed up with the monopoly that publishers and creators have over content that users paid their own money for. In the case of Illuvium the central elements of the game – the Illuviuls – are the NFTs – and they belong to the players once they've been minted. With the appearance of a more realistic type of Pokemon, Illuvium has clearly put a lot of effort into their game – and while it's not been released yet, there is a fair amount of anticipation for the game and its rather sophisticated visuals.
Gameplay
Illuvium released its first gameplay reveal trailer on 30 October 2021. Watch the trailer below: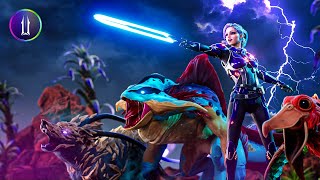 The aforementioned Illuvials are plenty in number – there are more than 100 different ones available for players to catch, all with their own abilities, stats and classes. They can be caught and even fused to create even better creatures – and they also come in different styles. Rarer Illuvials can be shiny, cosmic or even holo, making them more valuable and of course more collectible.
Due to the integration of the game with Immutable X, players don't have to worry about the horrendous gas fees the main Ethereum net struggles under. Peer-to-peer trades don't carry gas fees with instant transactions, making Illuvium much cheaper to play and trade in than some other games out there!