Published on: 26/12/2021
Dune Video Game: Sequel To Launch After 30 Years
Way back in 1992, the first-ever Dune video game was launched, to an average reception. However, later that year, Dune II: The Building of a Dynasty was released, and it was considered the first true real-time strategy game. These games were based on the 1984 movie of the same name, and before that, a popular sci-fi novel written by Frank Herbert. Now, after thirty years, a true sequel to the last great Dune video game is being released – Dune: Spice Wars.
At the 2021 Game Awards, Dune: Spice Wars was announced, capitalising on the success of the 2021 movie of the same name. It was an unexpected announcement, with fans actively welcoming another RTS game from the franchise that essentially kicked it all off.
What can we expect from the new Dune video game?
Control The Spice, Control The Universe
While Frank Herbert's Dune is where it all started, we're a long way from the original novel today. In total, there have been five fully-licensed Dune video games to launch in the franchise, but admittedly, most of them have failed. In 1998, a remake of Dune II was pushed out, called Dune 2000, but it was essentially the same game – just polished. Then, in 2001 came another RTS title, this one still not reaching the levels of success that Dune II had seen.
Also in 2001, Frank Herbert's Dune was released, but this was such an underwhelming title that just one year later, the studio filed for bankruptcy. Finally, also in 2001, Dune Generations was announced but ultimately cancelled.
In a sudden and unexpected return to form, Dune: Spice Wars promises an in-depth, exhilarating RTS experience. While we don't know too much about the platform, we do know that the title will boast 4X elements, sprawling maps, and elements of politics, combat, and subterfuge. This RTS experience is being delivered by SHIRO Games, which although it might be new to Dune, the video game development path itself is not something the firm is unfamiliar with.
In recent years, SHIRO Games has launched several successful titles, including an open-world RPG, a survival action experience, and an RTS game.
Read also: What Are The Best Upcoming Games in 2022?
What Can We Expect From The Dune Video Game?
As we've said, there isn't a whole lot known about Dune: Spice Wars. Currently, there hasn't even been a confirmation as to which platforms the game will launch on. However, if SHIRO Games is going to cover all the bases, we can imagine it will launch on PC, Xbox, and PlayStation. While RTS games were almost made for the PC platform, they have fared quite well on console-based platforms.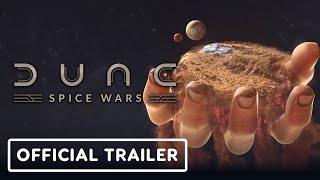 There are expectations that some form of multiplayer will surface in the new Dune video game. In Spice Wars, players can fight under several factions, which immediately fuels a natural PVP curve. In a game where units are actively pitted against one another, the potential for multiplayer combat is all but written.
Unfortunately, there is almost no pre-order information available for Dune, which at present, only bears a release date of '2022'. However, you can add the game to a Steam wish list, if you so desire. In 2022, before the full launch of the Dune video game, an early-access period will open up.
So, you shouldn't have to wait too long.
Read more: Which Games Deserve a Sequel?